Manchester City's offense has been vicious for the first half of the season. There's a speed and intelligence in their attack that defenses can't contain. It's the Pep Guardiola Effect. City has learned Pep's system: attackers gang up and create triangles around defenders. Outnumbered and helpless, defenders spin around to see where the next attacker is coming from, only to find the ball is already by them.
An attacking system should function like a machine with different components working unique jobs. Pep's machine at City is designed to not just keep possession, but to attack with purpose. They attack wide spaces, swing play from side to side, and try to break defensive lines. All of City's players, including the goalkeeper, must be confident with the ball at their feet. They must be able to shift their positions and tactics depending on how the game flows. Most importantly, the players are expected to perform to perfection. It's not enough to work hard. There are a lot of players who work hard. You need the right mix of talent, desire, smarts, acuity, and all those intangibles that we don't understand but can clearly see.
Attacking systems are machines meant to create shots on goal, and Pep builds them better than anyone at the moment. What powers City's system is its artificial intelligence chip on the motherboard: center midfielder Kevin De Bruyne. De Bruyne collects the ball from defenders and brings it to the attack. His primary goal is to drive forward, but he moves the ball horizontally or backwards to change the point of attack.
He's at the artificial intelligence level, because he has the ability to intake a ton of data and instantly make the right decision, sending out balls that precisely slice and curve behind defenders and goalkeepers. His energy level is robotic. He sparks his team by sprinting 20-yard to pressure defenders, by passing forward then following the pass for a drop off and surge through, or by blasting into a tackle, taking the fall with a roll, and then he's right back up again.
De Bruyne's play led to City entering their Premier League match against Stoke City in October having won eight straight games, including blow-outs of 5-0, 4-0, and 6-0. When a team crushes opponents that hard, a sense of invincibility sets in. In humble minds, that self-assuredness leads to a show of art on the field. This October afternoon Stoke was blasted onto the canvas, 7-2 the final.
City's first goal started with Stoke attacking. Committing players forward is a dangerous pursuit against City because they counter attack in a flash. Stoke couldn't even string two passes together. As soon as they lost possession, City got the ball to De Bruyne, who then transitioned the team to attack.
City fullback Kyle Walker was the star of the goal for his box-to-box sprint, but it was De Bruyne's run down the right side and his perfectly weighted pass into Walker's stride that capitalized on the fullback's sprint.
It was Walker.
It was De Bruyne.
It was City's system.
It was Stoke's unskilled assertiveness.
City's second goal is them at top gear, and it came on their very next possession. That type of relentlessness — greedy and vicious —is only seen in the best teams. They throw at their opponents an onslaught.
Again, it started with a Stoke attack. Off the kickoff, Stoke's Senegalese striker, Mame Diouf, did valiant work to drive the ball down to the right corner, but City defender Nicolás Otamendi ended the chance when he took the ball away and, full of confidence, back-heeled a pass — just as you'd dream it — to a City teammate.
City moved the ball across their defensive line. De Bruyne watched from the top of his own box, poised to collect and move play forward. However, Stoke, already committed to the attack, pressed with four players and covered all ways out.
City had to solve it.
Fellow City midfielder, Fernandinho, ran straight to the touchline, catching the eye of De Bruyne's defender and pulling him up the field. De Bruyne faked two steps up and then retreated back — wide open. He took the ball out of danger and passed it up to David Silva, the bottom chain of the City attack. As Stoke retreated, City worked the ball down the left side to their young German winger, Leroy Sané, who got all the way to Stoke's box before a defender could get in front of him.
Sané, the man leading the onslaught, attacked the defender immediately, dribbling right at him, forcing him to backpedal into his own box. Only one City player was in front of the goal, so Sané circled back, all of his moves like a fighter jet's, aggressive yet controlled. De Bruyne stayed about 25 yards out, just off-center. He had plenty of space because Sané got all the way to the end line, compressing the Stoke back line, creating a large gap at the top of the box. Sané picked up another defender, and that's when De Bruyne showed for the ball, right at the 18.
​
De Bruyne had options. He could shoot and risk a defender blocking it. He could chip a ball over the defense to Raheem Sterling, but he was well-covered. Instead, he played against the grain and put down a ball that cut out three Stoke defenders and sat for three City players to pounce on.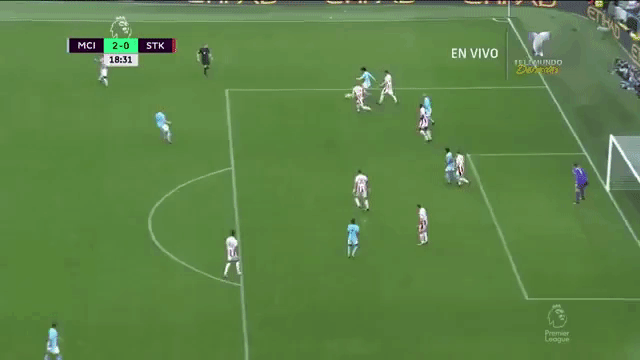 That was the smartest move, yet, technically, the most difficult. It was a "are you good or are you great?" moment. De Bruyne is great.
Sané was back in charge of the onslaught.
Sané's pass to Sterling is what happens when players are confident that their attacking machine will make them more chances. Players are selfish when chances are rare. Let Sterling have this one. It's not the last time this year that City's attacking system will take them all the way down to two players waiting open at the six yard box, both begging to whack the ball in.