NEYMAR JR
These were the headlines after the 2014 World Cup semifinal:
The Soccer Rout That Shook the World — New York Times
Brazilian disgrace, German glory — ESPN
Neymar didn't play in Brazil's 7-1 defeat to the Germans. He broke a vertebra in the previous game, and had to sit back and watch that semifinal, and all its gory details, with the rest of us.
Could he have affected the outcome?
Is he a player who can dominate in the world's biggest games?
The broken vertebra kept us from answering that.
Neymar recovered in time for the start of the 2014/2015 La Liga season, but, given Barcelona's high standards, the club struggled. A draw to middling Malaga, a loss to PSG. Real Madrid beat them soundly.
The team bought Luis Suarez over the summer. So they had Neymar, Suarez, and Messi up front attacking. But still things weren't right. Their performances weren't inspiring.
It turns out, Barcelona's decline has been in the making. Look at their seasons previous to this one:
2011-2012: 74% winning percentage, 190 goals scored, 48 conceded.
2012-2013: 72% winning percentage, 158 goals scored, 70 conceded.
2013-2014: 68% winning percentage, 148 goals scored, 48 conceded
Barcelona needs someone at the club to step up and save them.
They aren't dead yet, they're just dying. And while they do, Real Madrid is off and winning. Atlético Madrid are getting better.
Neymar is a guy who, since the World Cup, is looking for somebody to save.
Let's look at him. He seems to be made of blades and pipes. He's skinny in the arms and legs, but is sharp at the edges. During a game, he wins a lot of "situations" on the field *, most often through his ball control. He keeps the ball on a string and knows how to tug and sling it into twists that nobody else does.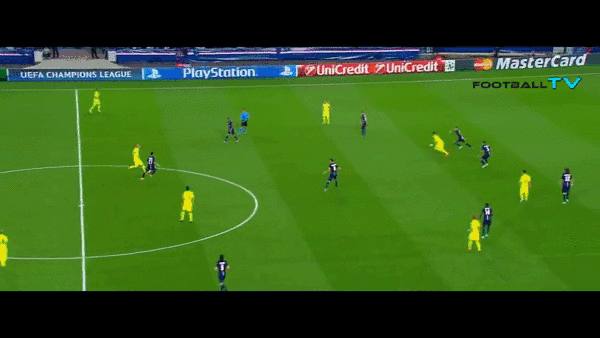 Recently, much like Ronaldo did in the past, Neymar has begun to use his skills in a more efficient way. While he would previously drag the ball around defenders, beating them but for little or no gain, he now attacks directly and uses fewer moves to beat a defender, making Barca's attacks quicker and more dangerous.
More importantly, he seems ready to show that he isn't just a cute face you put in your magazine. He's a player of substance. He's been identified as a leader by his national team coach, and was named the captain. Captain of Brazil at twenty-two. That's pretty good.
He is an ambassador for the sport. A man who can be loved anywhere. As to now, clean as a whistle, and he will carry on his shoulders the weight of a country, the weight of a club. He wants to be the center of everything, and he is so good at being so that we are happy when he is. He's a showman, a man who will lead, and will make it seem that he is not doing it for his own glory, but for the good of others. It's not megalomania, it's servitude.
Move to Barcelona's game at the end of November, this year, against Valencia. At the time, Valencia are hovering in the top five of the league, so a zero, zero draw for them against Barcelona is a victory. For Barcelona, if they can't score and their opponent isn't from Madrid, it's not just a loss, it's demoralizing. It's slipping. The players at Barcelona, and the same goes for those at Real Madrid, live under pressure to win all of their La Liga games.
What toll does that pressure take?
If they have to win every week, winning becomes a burden, not a reward.
For Neymar, this situation is perfect.
He's got the charisma any savior needs.
He's starting to figure out how to be better than others at the top.
And he's out there just looking for another man's burden.
On a November night in Valencia, he found one.
*
The 93rd Minute, Barcelona 0, Valencia 0:
Barcelona is about to take a corner from the left side.
Their second in succession.
For nearly all 92 minutes of this game, they've had Valencia under attack.
Valencia has bent every way, they've just not broke.
Neymar's hair has lost its poof.
The South American Contingent — Neymar, Suarez & Messi — has been making chances, been getting each other in on goal, it's just that bit of magic is missing, that magic that turns a chance to a score.
Neymar has had a bit of magic saved up since the World Cup. A little Messiah juice he's been waiting for the right time to drink, and it's looking like now is as good a time as any.
Suarez was substituted in the 80th minute.
Picture the Barcelona attack as a trident.
Suarez was now a broken prong.
Messi, just a few minutes back, fought through the Valencia defense. He was nearly in on goal, but a fellow Argentine ran him down.
*Define "situations". The idea is that the sport is filled with situations on the field that are open to be won. For example, you can have three attacking players advancing the ball against two defenders. This situation becomes a three v two, and the rest of the players, even the idea of scoring a goal, is put on hold while the three v two plays out. Another situation, a fifty-fifty ball is coming down and two players vie to control it. Any sport can be reduced to these "situations", and who wins them impacts who wins the games.
Now he's a broken prong too.
That leaves Neymar.
O Salvador.
The corner is taken short.
Worked around to Dani Alves at the top of the box.
It's Alves to Messi.
Messi has space on the right edge of the box.
He draws three Valencia defenders and the eyes of the world.
Neymar stays where he is, in the center, next to the penalty spot.
The Valencia defense drifts away from him, toward the glow Messi brings.
Quem você esqueceu?
O Salvador.
Messi's cross is right on Neymar's head.
He's left alone.
He leaps.
Now, being the savior of a club the size of Barcelona is a pretty good gig. It brings with it worldwide adoration, probably some extra money, and it means you are a part of the reason why the next generation is who it is. Take an American kid on a Saturday morning, watching from his living room. He sees Neymar jump like this, legs scissoring, mohawk flapping. He foresees the glory and thinks okay, okay, I can be this.
But really, a savior — a talisman — is a responsibility too big for any one person to have. The desire is humanitarian, but it's so monumental that it quickly becomes a player's fatal flaw. One man does not beat 11.
But, don't worry, Neymar doesn't win Barcelona the game. Pointblank, his header hits the goalkeeper in the chest. The ball bounces off him and away. Neymar's chance to be the man who saved Barcelona is gone. Instead, he is the man who should have saved them and failed to. He couldn't do it for his country, he couldn't do it for his club.
That American kid's dream cools. He's never seen LeBron miss a dunk.
The world sees that Neymar is not yet the player they want him to be.
Neymar lands and must immediately begin the process of accepting failure. Without this acceptance, he's crippled. The beauty of being a savior is that they're always needed, and you can be a failure today, a savior tomorrow.
It helps to have teammates like Sergio Busquets.
Neymar's header comes off the goalkeeper and lands right at Busquets' feet. The lumbering defensive midfielder sees the ball bouncing in the box. And it's the 94th minute? Time for nothing pretty, he smashes the ball into the top of the net.
Barcelona win.
The whole club celebrates.
Neymar is forgiven. His coronation is postponed.